About Otipo
Otipo is a web-based online employee scheduling software that provides a new and fun way for scheduling shifts. Forget paperwork, notes and phone calls. Otipo makes scheduling quick, fun and accessible from everywhere, at anytime. It's time to say goodbye to the pen and paper and let Otipo schedule like a pro.
How do I start
Otipo offers a free one-month trial period. Try it, you'll like it.
First, use our simple Getting Started Wizard to tell us about you and your scheduling needs. Otipo can be used by a variety of organizations and businesses and we know that each organization has different requirements. Using the wizard, you define your own shift template – the shifts hours, the different roles and levels, the number of required staff members from each role for each shift, and more.
Next, invite your team to the service you enter their email addresses, we do all the rest
Start enjoying the benefits of Otipo.
What do I get
Online access to the website and app for you and your staff members using personal user name and password.
Submitting availability details through the site or app in less than a minute.
Automatic email reminders or text messages for those who have not yet submitted availability details.
A smart algorithm that takes into account the needs of the business, the requests of the staff, and the government labor laws to suggest the optimal scheduling arrangement.
ֿPublication of the schedule online, with an option for email notifications.
Access to the schedule for all staff through the mobile app, including email notifications
Automatic SMS reminders for those who tend to be late for their shift.
A variety of reports that summarize salary calculations and various statistics.
Responsive support via the site, email, and telephone.
Can I see how it actually looks before I start?
Sure! Simply click the images below to see enlarged sample screens from the system.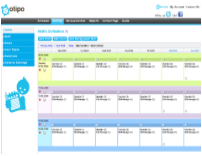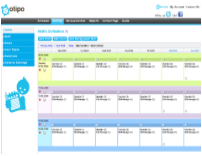 Click to enlarge
Shifts definition
Create your own schedule board that fits your needs. Define shift hours, the required number of staff members from each role, rotations between the staff over specific shifts, rest hours after the shift and much more.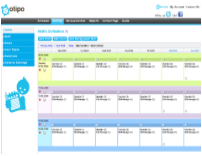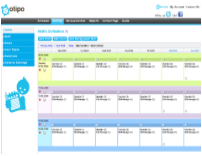 Click to enlarge
Managing Your Staff
On the Staff List page, you can view the details of each of your team members, add new staff members, define the roles and skills of each employee, and invite them to use Otipo.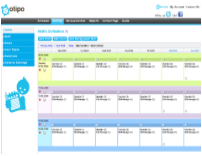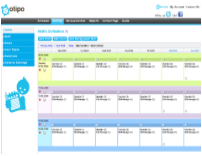 Click to enlarge
Scheduling
This is where everything happens! On the Schedule Page, you can view your team members' availability, send them SMS messages, automatically schedule shifts, manually change the schedule, publish the schedule, send the schedule via email, print the schedule, view the schedule's results through the summary report, update work hours, edit shift hours, and even update the manpower needs for specific weeks.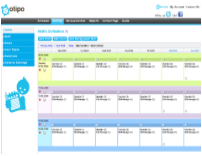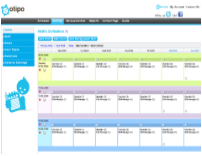 Click to enlarge
Printable Format
No more retyping into Word/Excel - just click a button and your schedule is ready to print. You can even add notes.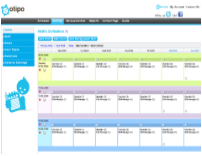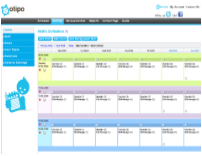 Click to enlarge
Reports
You will be surprised to find out how much you can derive from the schedule. The hours report is just one example of the diverse reports available with Otipo.
Staff Members' Interface
Staff members can access Otipo's website and app using a user name and password. The app can be downloaded for free from the Apple and Google Play stores.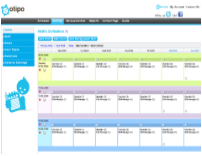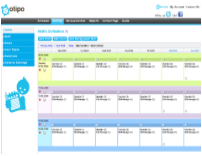 Click to enlarge
My Availability
The team members submit their availability by marking the shifts they are available to work in. They can also add a textual comment that will be visible by the manager.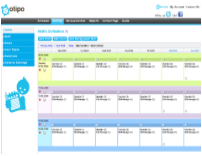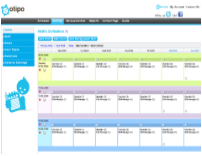 Click to enlarge
My Shifts
After the manager publishes the schedule, each staff member can view the schedule and particularly shifts that he/she is assigned to.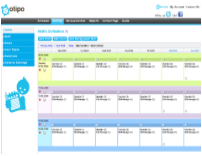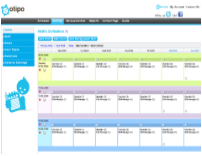 Click to enlarge
Smart Shift Swapping
When an employee needs to change a shift in the arrangement, he updates his availability in the app and Otipo sends an automatic message to all relevant and available employees. Scheduled shifts are changed only after approval by the manager.
And there's even more...
Reminders for submitting availability are sent automatically by mail and by SMS
SMS Reminders before shifts can be sent automatically
Scheduling engine rules can be customized to meet your needs
You have full control over what details your staff members can see
How does it help me?
Instead of nagging your staff to submit availability, Otipo does it for you. There's no need to collect employee requests and collate piecemeal notifications - each team member submits their availability independently online.
Otipo generates the schedule using a sophisticated algorithm to ensure that each team member receives the number of shifts he wants, to avoid double shifts, to take into account rest times and rotate problematic shifts, and more. A few minor tweaks, and you're good to go.
Do you need to know how many hours each staff member worked? How many night shifts each employee worked last month? Otipo saves all data and offers you a variety of summary reports!
With Otipo, each team member can view the schedule including the particular shifts that he/she is assigned to work, and keep track of ongoing changes.
Is Joe a chronic late arrival? Otipo can send SMS messages with reminders to relevant staff in advance of their scheduled shifts.
If there is a change in availability or other requirements, you do not have to rebuild the whole arrangement. Instead, just update the changes for the relevant time period and you can update the schedule within seconds.